Welcome to the THRILLS AND CHILLS Giveaway!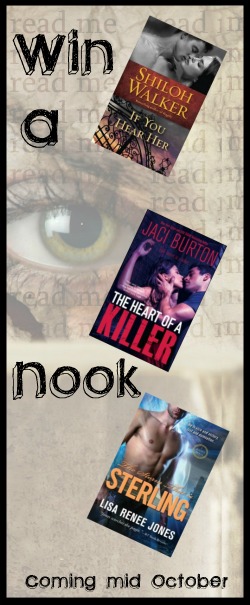 Author Shiloh Walker, Lisa Renee Jones and I will be running a contest for the next couple weeks, telling you a little bit about our upcoming books, and giving you multiple chances to win a NOOK COLOR!
We'll be showcasing each other books with posts and excerpts. All you have to do is follow the blog posts, which I'll be sure to link to here. every time new ones come up, but if you want to mark your calendars, here's when the posts will go up and when:
-10/17 (that's today!) at Lisa Renee's blog
–10/20 at Shiloh's blog
– 10/25 here
–10/27 at Lisa Renee's blog
–11/1 At Shiloh's blog
–11/3 here again
Today, I have an excerpt over at Lisa Renee Jones blog. Comment there for your entry in the Nook contest.
So that's all you have to do–Enter at each of our blogs on the scheduled day for a chance to win the Nook.
Official rules and contest info below!
To enter the T & C giveaway, just comment on today's guest blog! 🙂
Enter the Thrills & Chills giveaway…throughout the end of October and early November, Jaci, Shiloh & Lisa will be visiting each other's blogs, leaving excerpts & guest blogs. On those days, all you have to do is comment on the T & C guest blog or T & C guest excerpt (comment as often as you like, but you only get one entry per post). When the Thrills & Chills blog tour is over, one lucky commenter will win a Nook Color!
Void where prohibited
Contest is open internationally. In the event an international reader wins and doesn't want the Nook, a comparable prize will be offered. (Please note, the comparable prize will only be offered if an international reader wins.)
Comments must be made at the T & C guest blog/guest excerpts to count as entries
Comments left via facebook/goodreads, etc cannot be counted. (Facebook's rules mess things up, guys…it's not really in our control, hope you understand)
For the rest of the rules, please read the disclaimer…entering the contest means you've read the disclaimer and agree to it.